How to replace a dashboard bulb
|
If parts of your Shogun / Pajero/ Montero are dark at night, it might be that one or more of your dashboard bulbs are burnt.
Replacing the bulb is pretty easy job, all you need is a Philips screwdriver and ~15-30 minutes.
First, turn off the engine and lower the steering wheel as low as possible.
Then, unscrew the 2 philips bolts on the top of the dashboard: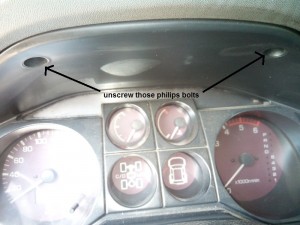 Carefully, pull the plastic cover away and then you will see the 4x Philips bolts, remove them as well: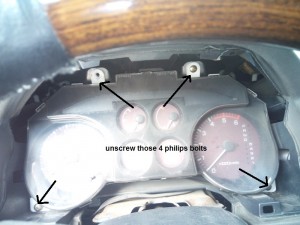 Carefully, pull the cluster and remove it. Notice there are 3 connectors at the back of the cluster, so be careful while you are pulling it out.
The connectors: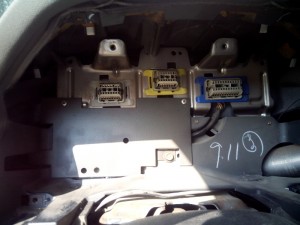 Now you can see the bulbs mounts (circled in the image below)
Turn the mount anticlockwise and pull the bulb with its mount.
Replace the bulbs (T5) and insert it back in place (of course, turn clockwise to put it back)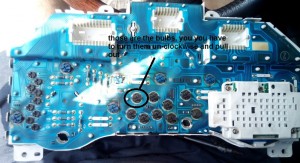 Put everything back together and enjoy your new lights.
PS, if you are going to put led bulbs instead of the regular ones, you may have to verify the connectivity and direction of them (+-)